So does it work? AI/ML I mean.
I took 69 factors—many BS noise factors and some good—and selected some of them using a simple algorithm from Jan 1, 2000 to Jan. 1 2010. I then used a simple ML algorithm, trained on the data and just for the fun of it bootstrapped it (or Bagged it meaning bootstrap aggregating) 100 times. Then tested this out-of-sample 2010 - 2011. It took maybe 40 seconds to run in Jupyter Notebooks with a Mac Laptop (with the 100 bootstraps). I then walked this forward selecting new factors, training 2000 - 2011 and testing 2011 - 2012,……Selecting new factors, training 2000 - 2022 and testing 2022 - 2023. Results: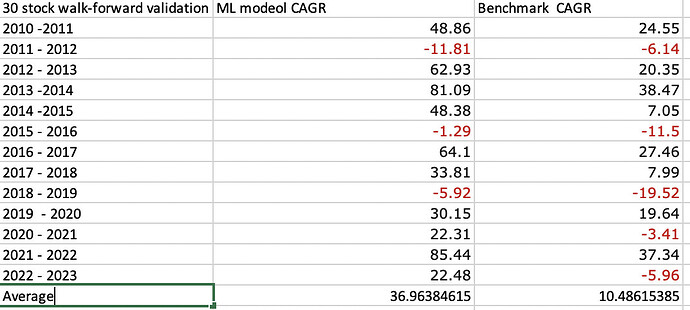 I will say a backtest training 2000 - 2023 and then testing 2000 -2023 does do a quite a bit better. But I think I will stick with this validation method myself. Also, not bad compared to out-of-sample results for some of the designer models.
To the best of my knowledge this is the first complete validation starting from scratch with feature selection of what @Marco has been working on. I hope it gets the attention it deserves from present members and serves to attract new members when released.
Jim